Caffeine, cognitive enhancers, and probiotics.
And lots and lots of vitamins and minerals.
What the hell are we looking at here? If it weren't for the Hydroxycut name, we'd be more hesitant to categorize this supplement review under the Fat Burner tab. Which foreshadows one of the key issues with this supplement: Where are the fat burns?
From the get-go, we can only identify a few fat burning ingredients, so hopefully Hydroxycut Platinum makes up for this with its nootropics, bacteria, vitamins, minerals, etc.
About Hydroxycut Platinum
Manufactured by MuscleTech, Hydroxycut Platinum is a "Complete Premium 5-in-1 Formula" that targets high-performance weight loss and metabolism, featuring a few Best5 favorite fat burners and more …many more …way, way too many more. Formula notes:
5-in-1 Formula: Hydroxycut Platinum targets five objectives with its one formula: 1) weight loss, 2) probiotics, 3) vitamins & minerals, 4) energy, and 5) metabolism.
Proprietary Blends: 13 ingredients are stashed away in Hydroxycut Platinum's four proprietary blends, obscuring many individual ingredient dosages.
Multivitamin: 19 ingredients take up Hydroxycut Platinum's vitamin & mineral section, which seems …needlessly excessive. Or just excessive. (Let's not be needlessly, excessively redundant here.)
Hydroxycut Platinum Supplement Facts

Serving Size: 2 Capsules
Servings Per Container: 30
Ingredients
Amount Per Serving
Vitamin A (as Retinyl Palmitate)
1,840 IU (37% DV)
Vitamin C (as Ascorbic Acid)
22 mg (37% DV)
Vitamin D (as Cholecalciferol)
149 IU (37% DV)
Vitamin E (as D-Alpha Tocopherol Acetate)
12 IU (40% DV)
Vitamin K (as Phytonadione)
11 mcg (14% DV)
Thiamin (as Thiamin Mononitrate)
1.1 mg (73% DV)
Riboflavin
1.1 mg (65% DV)
Niacin (as Niacinamide)
7.9 mg (40% DV)
Vitamin B6 (as Pyridoxine Hydrochloride)
1.1 mg (55% DV)
Folic Acid
149 mcg (37% DV)
Vitamin B12 (as Cyanocobalamin)
2.3 mcg (38% DV)
Biotin
118 mcg (39% DV)
Pantothenic Acid (as Calcium D-Pantothenate)
3.4 mg (34% DV)
Iron (as Ferric Orthophosphate)
9 mg (50% DV)
Iodine (as Potassium Iodide)
60 mcg (40% DV)
Zinc (as Zinc Oxide)
4.4 mg (29% DV)
Selenium (as Selenomethionine)
11.3 mcg (16% DV)
Copper (as Copper Sulfate)
1.1 mg (55% DV)
Chromium (as Chromium Chloride)
117 mcg (98% DV)
Weight Loss+ Complex
358 mg
C. Canephora robusta extract (Robusta coffee) (bean) Standardized for 45% chlorogenic acids
200 mg
Red Mango extract (as Garcinia indica) (fruit) Standardized for 50% hydroxycitric acid (HCA)
**
White Kidney Bean Extract (as Phaseolus vulgaris) (seed)
**
Sensoril® Ashwagandha Extract (as Withania somnifera) (root and leaf)
**
LactoSpore® Bacillus coagularis
**
Thermo+ Energy Matrix
325 mg
Coffee Extract (as Coffea Arabica) (Bean) Supplying 200mg of caffeine
205 mg
Choline Bitartrate
**
L-Theanine
**
Huperzine-A (As Huperzia Serrata) (leaf)
**
Superfruit Matrix
100 mg
Cherry (as Cerasus Avium) (stem)
**
Lemon Concentrate (as Citrus limon) (fruit juice)
**
Tangerine Concentrate (as Citrus reticulata blanco) (fruit juice)
**
Other Ingredients:
Capsule (Gelatin, Candurin Silver), Rice Flour, Magnesium Stearate, Silicon Dioxide.
Directions:
To assess your tolerance, refer to the chart below. Once your tolerance has been assessed, take 2 capsules twice daily, 30 to 60 minutes before your 2 largest meals (e.g., breakfast and lunch). Do not exceed 4 capsules in a 24-hour period. For best results, use for 60 days in combination with diet and training.
Day 1 to Day 3: Take 1 capsule, 2x daily.
Day 4 & Beyond: Take 2 capsules, 2x daily.
Hydroxycut Platinum provides five advertised supplements in one: 1) weight loss, 2) probiotics, 3) vitamins & minerals, 4) natural energy, and 5) metabolism boost.
The vitamins & minerals – all 19 of them – take up most of the Supplement Facts space, effectively qualifying Hydroxycut Platinum for the "multivitamin" tag perhaps more than the "fat burner" tag.
The reason for these ingredients is undeclared by MuscleTech, yet they're not bad for general health and wellbeing – granted, many of these vitamins & minerals could improve their forms and dosages.
Hydroxycut Platinum hides its more exciting ingredients in its proprietary blends: Weight Loss+ Complex, Thermo+ Energy Complex, Superfruit Matrix, and Probiotic Blend. Let's check them out:
Weight Loss+ Complex
358 mg dosage, of which 200 mg are reserved for the first ingredient alone, leaving 158 for the remaining four ingredients. Something tells us this is not enough to cover the entire blend… either way, here it is: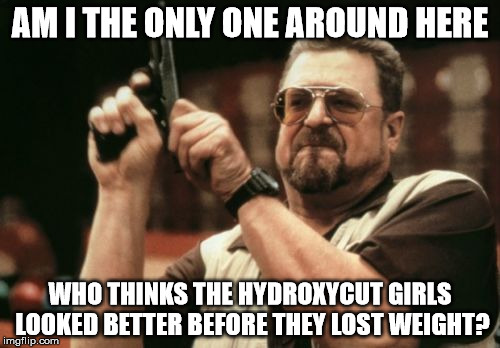 Canephora robusta Extract – Standardized for 45% CGA, this trendy fat burning extract may spark energy metabolism while balancing blood sugar levels. Not a bad ingredient to enhance your exercise fat-loss results.
Red Mango Extract – Might help with cholesterol and blood sugar, if eaten in its soluble fiber format. But the extract doesn't hold the same promising value.
White Kidney Bean Extract – Similar to CGA in action, WKB extract helps regulate blood sugar levels and carb absorption – yet, its potency and efficacy remain questionable.
Ashwagandha Extract (as Sensoril®) – Potent, patented extract of a powerful adaptogenic herb, Sensoril may improve the stress and immunity measures involved in weight loss, making it a popular fat burner herb for high-stress, high activity exercisers.
Bacillus coagularis (as LactoSpore®) – Probiotics in support of healthy digestion, metabolism, and weight management. LactoSpore is a solid brand.
Thermo+ Energy Complex
Take a guess where Hydroxycut Platinum sources its energy from? That's right: Caffeine – supplied in the form of:
Coffee Extract – Supplying 200 mg caffeine, the #2 fat burner on our BIG List of Fat Burners for its reliable boosts on cAMP activity and norepinephrine. Stimulative fat breakdown and thermogenesis.
The remaining ingredients include these nootropics: choline bitartrate, L-theanine, and huperzine-A. Choline bitartrate is the most ineffective choline supplement form, whereas L-theanine may help reduce the jittery effects of caffeine – although, you'll need 400 mg L-theanine to offset the 200 mg caffeine, and that's simply not happening in this 325 mg dosed proprietary blend.
Superfruit Matrix
Not entirely sure what the deal is with these "superfruit" extract ingredients, since MuscleTech fails to mention their purpose. We may assume the Superfruit Matrix provides an array of fat burning antioxidants and acids, yet we risk the whole making an ass out of u and me in this assumption, since, again, we really don't fully know the purpose of these ingredients here.
Formula Analysis
Hydroxycut Platinum qualifies as one of the shinier fat burner supplements in the Hydroxycut series, backed by a "Stand Out and Go Platinum" ad campaign and a cool-looking box and bottle …but as far as the supplement goes, ehh.
Pass.
The few bona fide fat burners that Hydroxycut Platinum does provide are extremely common to the weight loss supplement market: CGA extract and caffeine – stacked with a number of under-dosed nootropics and superfruit extracts (?).
The result is somewhat of a disappointment, given the potential for Hydroxycut Platinum to do something unique with its caffeinated fat burns plus anxiolytic nootropics. Think about it: Caffeine may help increase energy and burn fat, but its value is hamstrung by the drug's jolty, jittery stimulation. L-theanine may offset the negatives of caffeine while maintaining the positives, providing a truly clean energy experience – as advertised by Hydroxycut Platinum.
Rather Hydroxycut only sprinkles in these other ingredients, relying primarily on caffeine and coffee bean extract, providing a standard, questionably effective, fat burning experience.
Oh, and don't forget about the vitamins & minerals. (Even though we have.)
Hydroxycut Platinum Benefits
The Hydroxycut Platinum benefits touted by MuscleTech include:
Weight Loss
Boost Metabolism
Clean Energy
The "Powerful Weight Loss" advertised by MuscleTech qualifies itself with its "scientifically researched weight loss key ingredient": C. canephora robusta. If this is the only essential ingredient to Hydroxycut Platinum's benefits, we recommend simply buying this ingredient as a cheaper, standalone supplement – given that the rest of Hydroxycut Platinum doesn't seem to do anything.
Who Takes It?
Fida. As the fact of the Hydroxycut Platinum ad campaign, Fida claims to have lost 33 pounds with Hydroxycut, essentially pandering to a weight managing female audience. Take Note: Fida accomplished this feat "with diet and exercise" – losing nearly three times the average weight loss as noted in the C. canephora robusta study …which seems to make Fida too much of an outlier to base as the standard of supplement weight loss.
Any Side Effects?
Hydroxycut products consistently carry negative customer reviews – a potential side effect of their popularity, but worth noting all the same. Hydroxycut Platinum doesn't seem to supply any harsh stimulants outside of caffeine, so our only caution against this supplement would be towards the caffeine-sensitive customers.
Hydroxycut Platinum Review Summary
Pros
Probiotics – Sort of the X-factor ingredient in this formula.
Diverse – Dosages aside, the array of bio-activity is impressive.
Affordable – Depending on where you buy, Hydroxycut Platinum is reasonably priced.
Cons
Proprietary – Why are you hiding those low dosages, Hydroxycut??
Under-Dosed – Why are those dosages low to begin with??
Standard Affair – The diversity falls apart with the supplement's primary focus on CGA + caffeine.
Pricing and Where to Buy
1 Bottle (1 month): $34.99
Available online and in retail stores
If you buy Hydroxycut Platinum through GNC or Bodybuilding, you'll find the above listed $34.99. Amazon and a few other retailers sell Hydroxycut Platinum at a lower price.
Final Word on Hydroxycut Platinum
Hydroxycut Platinum has the potential but fails to deliver, falling short of the magic found in Hydroxycut SX-7 Black Onyx, a member of our Best 5 Fat Burner Supplements – 2016 edition; not quite making it for the 2017 edition. If you're big on MuscleTech products, we recommend searching for a better Hydroxycut fat burner, as this fails to accomplish anything new in the weight loss market.
Our Rating