Here comes a "the body is like a car" cliché:
Gasoline may get the car going.
But who gives a shit about gasoline if the car is a Pontiac Aztek? (Apologies to Walter White.) We only car about maintaining the vehicle when the vehicle is sexy af. Likewise with the body: Who cares about T if the body is ugLY?
That's why we have boosters like Anotest that not only fuels the body with manly testosterone boosters but gets it looking gooood with muscle enhancing aminos & minerals.
Check it:
About Anotest
Do want muscles? MuscleTech has the muscles, evidenced by its muscled up Anotest "4-in-1 Testosterone Boosting Powder" that boosts both the testosterone & the gains. After all, what's the point of testosterone if you can't show it off? Formula notes:
4-in-1 T Booster: The 4 targets of this stack include 1) Testosterone, 2) Estradiol, 3) Cortisol, and 4) Androgen Receptors, the sum total being enhanced muscle performance.
D-Aspartic Acid: The review might as well end here with this bulletin point, as DAA is one of the heaviest, most reliable T-boosters on the market.
L-Glutamine & BCAAs: Typically reserved for direct workout supplements, these amino acids support Anotest's cause by decreasing the stress & damage of exercise.
Anotest Supplement Facts

Serving Size: 1 Scoop (7 g)
Servings Per Container: Approx 40
Ingredients
Amount Per Serving
Calories
25
Total Carbohydrate
1 g
 Sugar
0 g
Vitamin B6 (as Pyridoxine Hydrochloride)
2 mg (100% DV)
Folic Acid
200 mcg (50% DV)
Vitamin B12 (as Cyanocobalamin)
1 mcg (15% DV)
Calcium
9.5 mg (<1% DV)
Zinc (as Zinc Gluconate)
7.5 mg (50% DV)
Testosterone Boosting and Performance Complex
**
D-Aspartic Acid
1,560 mg
L-Carnitine L-Tartrate
1,466 mg
 Supplying L-Carnitine
1,000 mg
Boron Citrate
100 mg
 Supplying Boron
5 mg
Testosterone to Cortisol Ratio Complex
**
L-Glutamine
1,000 mg
L-Leucine
900 mg
L-Valine
375 mg
L-Isoleucine
375 mg
Other Ingredients:
Natural and Artificial Flavors, Sucralose, Trisodium Citrate, Acesulfame-Potassium, Calcium Silicate, FD&C Red No. 40, Malic Acid. Processed in a facility that also processes milk, eggs, soy, wheat, and peanut ingredients.
Directions:
Mix 1 serving (1 scoop) with 4 oz. of cold water in the morning. For full effects, mix 2 scoops with 8 oz. of cold water. Do not exceed 2 scoops in a 24-hour period. Read the entire label before use and follow directions provided.
Anotest supplies the protein parts in this powerful powder.
Testosterone tells the body to build, but you need to fill the body to build body. More specifically, you need proteins to build body. Anotest has the proteins–i.e. amino acids–at the ready to work when Anotest's T-spikes come around.
But that's not all this formula has. Let's check out the full ingredient profile of this T-booster to see what we're dealing with here:
The Vitamins & Minerals
It was the best of vitamins & minerals, it was the worst of vitamins & minerals.
Anotest makes a decent effort with its vitamins & minerals, supplying one of our favorite T-boosters Zinc in decent Gluconate form and B6 in plain Pyridoxine HCl form (P-5-P is the preferred option), but the stack loses points for its weak dosages and questionable addition of Calcium.
Why is Calcium questionable?? you say.
Because research indicates that Calcium intake may inhibit Zinc absorption. And if we're talking masculine health, Zinc is the highest priority mineral here.
Testosterone Boosting and Performance Complex
The meat of this testosterone booster, Testosterone Boosting and Performing Complex features two of our BIG List of T-Boosters favorites:
D-Aspartic Acid: Our #1 T-booster for its well-researched, ball-dropping bio-effects on testosterone levels, one human study demonstrating T boosts by 42% in only 12 days.
Boron: Fights T-killers estradiol and sex hormone-binding globulin (SHBG) for increased free T levels. Boron Citrate is a solid form of the mineral.
The former may increase T product, the latter supports free T levels. It's a smart duo that addresses testosterone expression from both ends. The remaining ingredient L-Carnitine L-Tartrate (LCLT) isn't a major T booster, but may help alleviate exercise-induced stress while enhancing T receptors in the muscles.
Testosterone to Cortisol Ratio Complex
Glutamine & BCAAs make sense in post-workout, bodybuilding supplements.
But in a straight testosterone booster?
Sure–if you're a bodybuilder taking Anotest, this blend makes sense for preserving testosterone levels while diminishing excess cortisol while training. According to a small study on high-resistance training athletes, short-term amino acid supplementation may improve measures on testosterone, cortisol, & creatine kinase in support of an anabolic "muscle building" state.
Formula Analysis
MuscleTech categorizes Anotest under its PERFORMANCE SERIES of supplements, which makes sense: Anotest is a performance-enhancing T-booster.
On the side of T-boosts we have: DAA, Zinc, & Boron.
On the side of performance enhancement: LCLT, L-Glutamine, & BCAAs.
The result is a decent anabolic male support supplement that manages significant increases in testosterone through a few well-chosen, potent, powerful T-boosters, while replenishing the body's muscle-building faculties with anti-cortisol, pro-T amino acids.
The B vitamins are a plus, albeit a small plus.
In terms of potency & quality, Anotest has plenty of room for improvement–e.g. D-AA-CC instead of DAA, P-5-P instead of Pyridoxine HCl, Methylcobalamin instead of Cyanocobalamin…
But we won't do too much whining about it… even though it'd be nice if they, like, gave us better quality ingredients every once in awhile… you know, to show they care and stuff.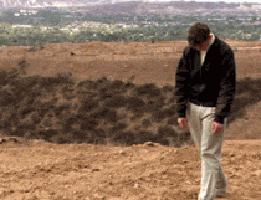 Anotest Benefits
Here are the benefits of Anotest, quoted straight from the horse's mouth:
Increases Testosterone
Decreases Estradiol
Reduces Serum Cortisol
Amplifies Androgen Receptor Concentration
While Anotest isn't the most sophisticated T-booster on the market, its ingredients do have the research to earn the product these claims. That's enough for us!
Who Takes It?
Heavy-Resistance Training Athletes. If we're going off of the research backing Anotest's BCAAs, this stack seems most suited for the active bodybuilding doods. Other men may benefit from the DAA and Boron, but most of the formula's benefits are activated by heavy physical, muscle-draining activity.
Any Side Effects?
Nope. One Amazon user reported cases of GI irritation, leading to "lots of valuable time with my bathroom" (way to stay positive, man!). MuscleTech is a solid company for providing safe, natural supplements, so we're not expecting anything serious with this stack.
Consider an on-off cycle to get the most out of Anotest's DAA for the long-run (and to eliminate any risk of side effect with this powerful amino acid).
Anotest Summary
Pros
D-Aspartic Acid. T-boosters with DAA mean business.
Performance Enhancer. BCAAs, L-Glutamine, & LCLT help with muscle gains.
Non-Proprietary. Showing the dosages is always the right thing to do.
Cons
Ingredient Quality. Many ingredients are of the cheaper variety.
Other Ingredients. We dig the powder, but not all the unnecessary junk.
Calcium. Not bad on its own, but diminishes the value of Zinc.
Pricing & Buying Info
1 Bottle (1 month): $69.99
Available online and in retail stores
Final Word on Anotest
The only remaining question that needs to be answered: Which flavor to go with? One of the perks of a powder supplement, a rare sight in the land of testosterone boosters. Aside from that, the important question should be already answered for you: Yes, Anotest works. If you can get your hands on it, definitely give it a try.
Our Rating